In 2015 the compost operation started by Bill Obear at Bear Path Farm transitioned to Bear Path Compost LLC. Little has changed. The location off of Webber Road in West Whately remains the same along with our reputation of producing a high quality product and excellent service. What has changed is the addition of two new faces, Mike and Pete Mahar, brothers who also operate Poplar Hill Farm and have the same zeal and attention to detail that Bill has demonstrated over the last 20 years.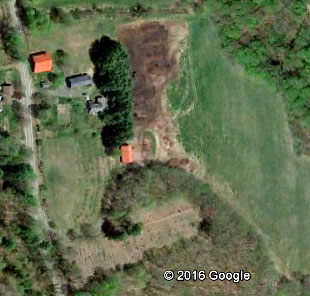 So please welcome Mike and Pete, Bill's new partners and owners of Bear Path Compost.
Bill's Bio
Bear Path Compost evolved from Bear Path Farm that began from a need by me to redirect my life from my former engineering job working for a small company that sold energy conserving power systems.
When I left my last engineering position, I was committed to start a business in the environmental field. I wanted to make the world a little bit better thru my work. I slowly began to investigate a few recycling related business opportunities. I was somewhat familiar with composting, since I had composted my food scraps and garden wastes for many years. Then it occurred to me that I had the land and already owned a small front-end loader. So I just needed to get a quantity of some basic compostable materials (manure, sawdust, horse-bedding, leaves etc.), mix them, turn them and see what would happen.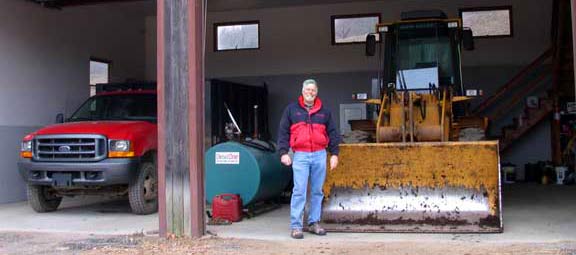 Bill Obear stands by his equipment at the farm in Whately.
With minimal marketing I adopted the attitude – if I make it they will come. I felt that if I made an excellent product and provided superior service, compost users will find me and my business will grow and succeed. The rest is history. Bear Path Compost now has a customer base of over 1,200 users in over 50 Western Mass towns. I know that I must be doing something right when we frequently receive calls from new customers who say that they heard from their friend or neighbor that we make the best compost in the Pioneer Valley. I owe many thanks to all of our wonderful customers for being so loyal and supportive.
Mike and Pete's Bios
Brothers, Mike and Pete Mahar, grew up on Poplar Hill Farm just a half a mile up the road from Bear Path Compost. Since Poplar Hill Farm's dairy operation ended in 1998, Mike and Pete have worked alongside their father selling hay and raising a small beef herd. They've known Bill as far back as they can remember, having spent many years cutting the hay on his land. The three men often passed time talking about their interests in farming traditions as well as the future of Bill's compost operation. As Mike and Pete's interests in composting peaked, these casual conversations among neighbors grew to become a solid business plan for the future of Bear Path Compost.
In the winter of 2015, Mike began working closely with Bill, learning how to manage and run the day-to-day operations of the compost business. Before long, Bill had prepared Mike to be equipped with the knowledge and skills necessary to ensure that Bear Path Compost remains a leader in producing high quality compost with impeccable customer service. Having worked alongside each other since childhood, it was only natural that Mike's brother Pete would join in this venture, allowing the brothers to continue to work on the Pioneer Valley land they grew up on.