Trying to serve everybody's compost needs, even very small needs, a self service system is set up for customers to stop by any time to pick up small quantities of compost. For self service customers, the procedure is as follows:

Follow the directions to Bear Path Compost provided on this website. Please call if you are unsure of the directions.
The direction you are traveling on Webber Road will determine how you will proceed to get to the compost area. If you are traveling north toward Conway, you should enter the driveway of the home and turn your car around and head back in the direction that you came for about 200 yards. Look for the compost sign on the left that marks the gravel road which leads to the compost area. The road is before the cemetery. Be cautious of oncoming traffic coming up the hill. On the left you will soon see the compost equipment building which includes a large covered storage area for compost.
Self service customers must provide their own containers for transporting the compost. Five gallon plastic pails are ideal, but any sturdy containers that you can easily fit in your car will do.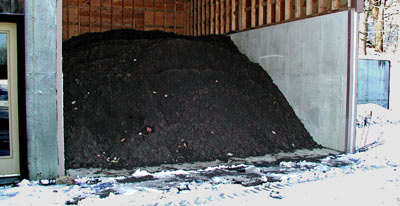 A shovel is available for customers to dig compost stored in the concrete storage area. A 5 gallon plastic bucket is available and is to be used as your measuring cup. Fill the bucket and then transfer the compost to the container(s) you've provided.
As you fill your containers, count the number of 5 gallon buckets that you've filled and multiply by $3.50. There are approximately 35 five gallon buckets to a cubic yard.
Enter the door marked "Self Service Customers". On the wall above the workbench you will see the pricing table for "bucket customers". On the workbench you will find a small metal container to deposit cash or checks. Checks should be made payable to Bear Path Compost. In addition you will find BPC brochures, copies of nutrient analyses and business cards.
We'd also appreciate it if you fill out the customer sheet on the clipboard.
It's as simple as that and you can serve yourself anytime – 24 hours/day, seven days a week.