Why is that? Dirt is dirt and compost is compost. Right? Unfortunately many people think this way and oftentimes have a bad experience. Neither compost nor dirt for that matter is a commodity like home heating oil which always has a gross energy value of 140,000 btus, no matter who the supplier is.
However, dirt or soil (as we like to call the finely ground up rock, minerals and organic matter that makes up our backyards and fields) has wide ranging characteristics from both a physical and nutrient perspective. In our country alone, thousands of individual "soil types" have been classified by soil scientists over the last 100+ years. Most fields and even backyards can have multiple soil types. Some soils are predominately clay, others are sandy, still others silty but most soils are frequently a mix of the three. So when knowledgeable customers ask us "where can I get some good loam or topsoil" we know exactly what they are looking for – not brick clay soil mixed with road sweepings.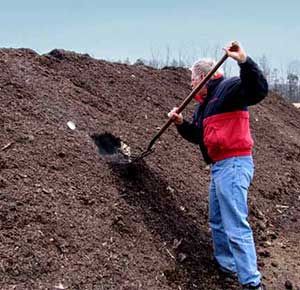 Compost like soil is not the same everywhere. Some so called soil amendments sold as compost are far from what their name implies. However, most if not all of the bagged composts on the market are of good quality and are made according to strict standards adopted by the producing companies. Failing to consistently produce quality bagged compost products, can significantly reduce the sales of a compost producing company. In other words the material in those fancy, cutesy bags sold at the local garden center had better hold up to the marketing hype.
Bulk compost sold by the cubic yard (27 cubic ft.) and frequently delivered to customers' fields and yards can be a bit of a different product. Some people think that compost is compost and like home heating oil, the cheaper the better. Like all bagged compost, bulk compost is frequently produced using time tested recipes of properly mixed raw materials (feedstocks). These mixed feedstocks are typically put in piles or windrows, turned or aerated properly over time and eventually cured in large piles with intermittent turning over a period of several months. At the end of the curing process many composts are screened to remove possible trash or other unwanted materials such as woodchips. Other composts do not require screening because of the quality of their feedstocks and excellent production practices.
Good replicable recipes, feedstock quality, multiple turnings (or static aeration) and proper curing are all necessary to produce high quality compost. Failure in any of these areas can result in unsatisfactory compost:
Food waste as a feedstock is an excellent source of nitrogen, but can result in producing compost with noticeable amounts of small plastic contaminants even after proper screening. However using clean food waste as a feedstock, combined with good management practices, usually results in an excellent compost product.
Compost that includes dairy or chicken manure or food waste will contain more nutrients than composted leaves or yard waste.
Fresh grass clippings are a good source of nitrogen for compost production but must be free of herbicides, some of which can be very persistent and will not break down in the composting process. Plants can be harmed when using such compost.
Compost containing significant amounts of woodchips as a carbon bulking material must be screened to remove this material to minimize the depletion of soil nitrogen by decomposing bacteria and fungi.
For compost producers using the windrow method, a lack of routine turning results in inadequate mixing and aeration and a failure to meet high temperature composting standards, frequently resulting in a significant amount of weed seed germination and possible retention of pathogens.
Your fingers and nose should tell you something. Compost should be crumbly, moist and have an earthy smell.
Reputable compost producers have their finished compost annually (or more often) tested by a certified testing laboratory. These tests will show the compost's percentage of major and minor nutrients, pH, percent organic matter, concentration of soluble salts, the carbon to nitrogen ratio, heavy metals etc.
Some marginal compost producers mix their semi-finished compost with sand, ground bark and/or other materials in order to increase its volume often resulting in unsatisfactory plant growth.
Beyond tests, feel and smell, all high quality composts must have endorsement from the greater farm and garden community that uses them. When in doubt always ask for references of past and present users from your potential compost provider. Ask nurseries and garden centers who they might recommend for bulk compost purchases. Visit the compost site and look at the compost before you buy. Farm growers will even test a small quantity to see if weed seeds germinate.
For the small amount of research involved, a gardener's and grower's time and money will always be best spent on quality compost products.